纳米农药技术助力宁夏农业绿色高质量发展
2020年8月3日,东华大学环境科学与工程学院蔡冬清研究员赴宁夏参加宁夏重点研发计划项目"纳米肥药研发与宁夏优势特色作物肥药减施增效关键技术集成示范(项目号:2018BBF02021)"现场验收会。在本项目中,东华大学与中科院合肥物质科学研究院联合承担了课题4"新型纳米控失农药创制及病虫害绿色防控技术研究与示范"的研究任务。来自宁夏科技厅、中科院微生物研究所、西北农林科技大学、甘肃农业大学、宁夏大学、宁夏农科院、宁夏农业技术推广总站等的三十余位专家参加了本次现场观摩和验收会,并对该技术给予高度评价。
本课题针对宁夏优势特色作物存在的病虫害高发难防、农药高施低效关键问题,研发升级了宁夏专用农药纳米控失剂,并在枸杞、蔬菜上累计示范606亩,可在稳效条件下减少农药用量20%以上,提高农药利用率15%,为宁夏农业高质量发展和农业面源污染削减提供有效科技支撑,该技术深受当地农户和种植大户的青睐。
   注:针对农药流失引发的面源污染问题,东华大学与中科院合肥物质科学研究院联合,利用辐照改性纳米黏土研发出农药控失剂,该控失剂相当于为农药液滴安装了微型"爪子",提高农药在作物叶面上的附着率,促进农药减量增效。围绕该技术,孵化成立青岛中科禾辉生物技术有限公司实现其产业化,产品已进入德国巴斯夫等大型公司农药配方,在我国和孟加拉国等地累计推广5000余万亩,可降低农药用量20%,创造直接经济效益5亿余元,有效缓解了农药引起的农业面源污染。该技术荣获2018年度宁夏科技进步三等奖及2018年度"孟加拉国农业奖"(国家级)。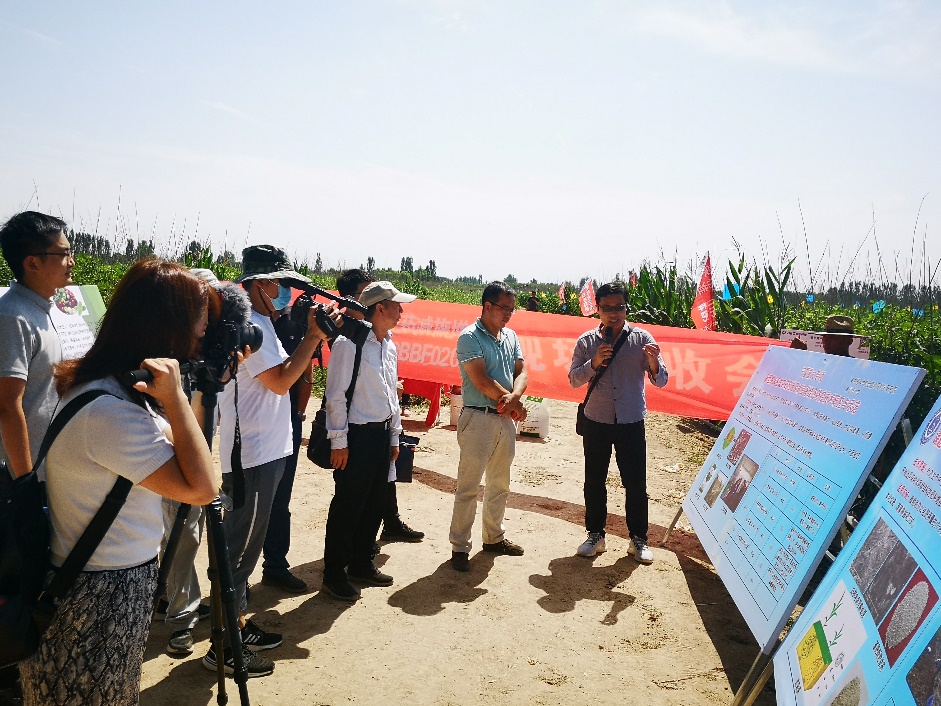 图1 技术宣讲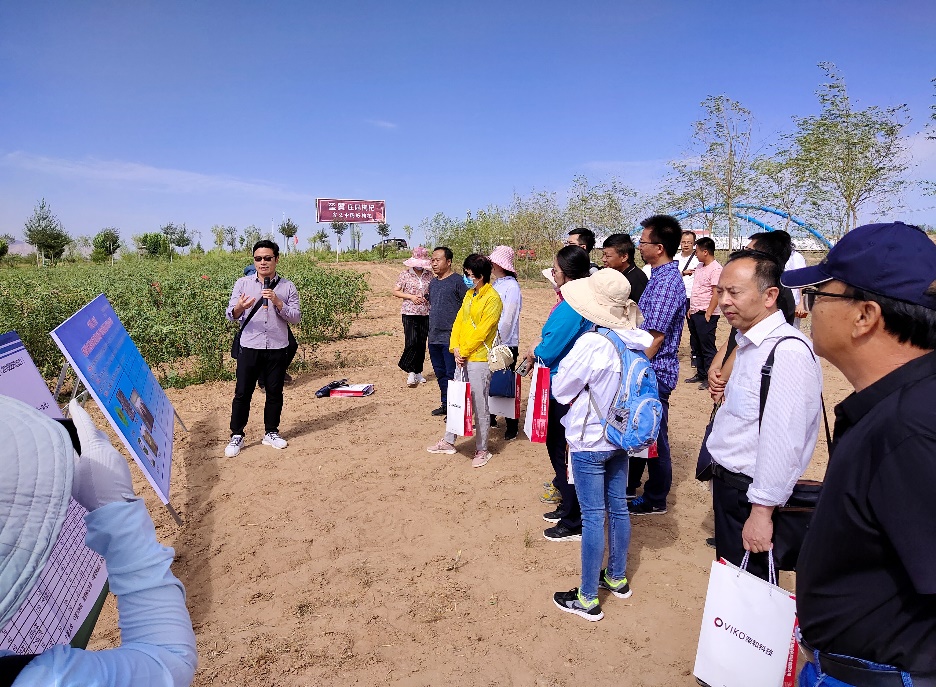 图2 技术宣讲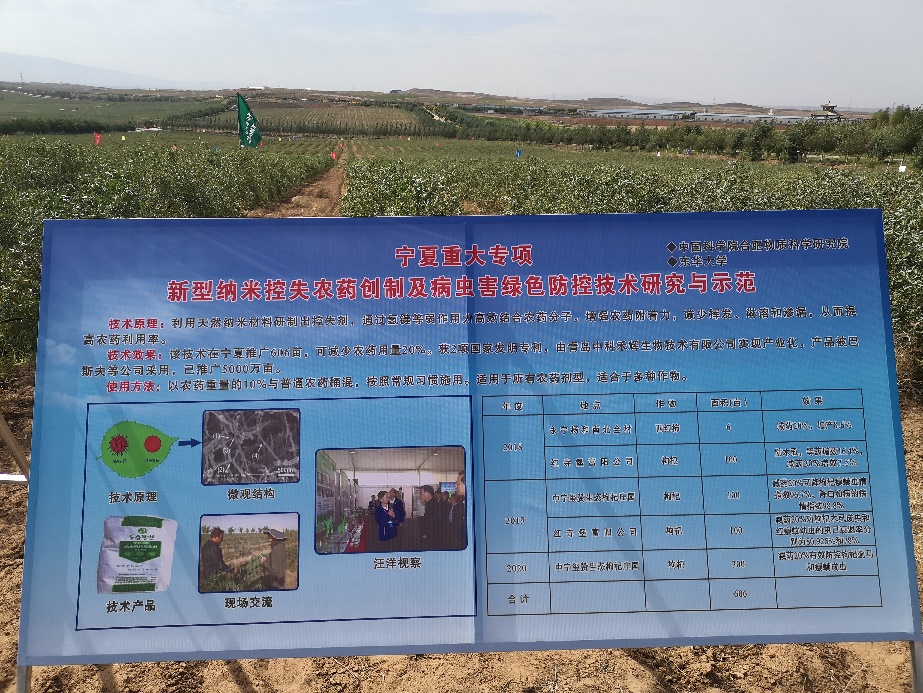 图3 示范基地
Ningxia Agriculture with Green and High-Quality Development Booms through Nano-Pesticide Technology
On August 3, 2020, Professor Dongqing Cai from the College of Environmental Science and Engineering in Donghua University visited Ningxia Province to participate in the on-site acceptance meeting of Key Research and Development Project of Ningxia. The program is "Nano-fertilizer research and development and key technology of integration and demonstration on synergistic reduction fertilizer and pesticide application on Ningxia's dominant crops (2018BBF02021)". In this project, Donghua University and Hefei Institute of Physical Science of Chinese Academy of Sciences jointly undertook the research task of Topic 4 "Creation of new nano-lost controlling pesticides and research and demonstration of green prevention and control technology on pests". More than 30 experts from Department of Science and Technology of Ningxia Province, Institute of Microbiology of Chinese Academy of Sciences, Northwest Agricultural and Forestry University, Gansu Agricultural University, Ningxia University, Ningxia Academy of Agricultural Sciences, Ningxia Agricultural Technology Extension Station, etc. participated in this on-site observation and acceptance meeting and gave high praise to this technology.
The program focused on the key problems of Ningxia's dominant crops with high incidence and hard control of diseases and insects and high dosage but low efficiency of pesticide application. This project has developed and upgraded the Ningxia special pesticide nano-lost controlling agentia, which has been used on a total area of 0.404 km2 on wolfberry and vegetables. As a result, the application of agentia reduced pesticide consumption by more than 20% and increased pesticide utilization rate by 15% under stable conditions, which can provide effective scientific and technological support for high-quality agricultural development and reduction of agricultural non-point source pollution in Ningxia. This technology is favored by local farmers and large growers.
Note: In order to solve the problem of non-point source pollution caused by the loss of pesticides, Donghua University and Hefei Institute of Physical Science of Chinese Academy of Sciences have jointly developed a pesticide loss control agent by using radiation-modified nanoclay. This loss control agent simulates the miniclaws assembled on pesticide droplets, which improve the adhesion rate of pesticides on crop leaves and promote pesticide reduction and efficiency. Based on this technology, Qingdao Zhongke Hehui Biotechnology Co., Ltd. was established to implement its industrialization. The products have been chosen into the pesticide formulations of large companies such as BASF in Germany. Furthermore, they have been extensively applied in more than 33333 km2 in China and Bangladesh, which can reduce pesticides dosage by 20 %, create direct economic benefits of more than 71.9 million dollars, and effectively alleviate agricultural non-point source pollution caused by pesticides. This technology won the third prize of Ningxia Science and Technology Progress Award in 2018 and the 2018 "Bangladesh Agriculture Award" (national level).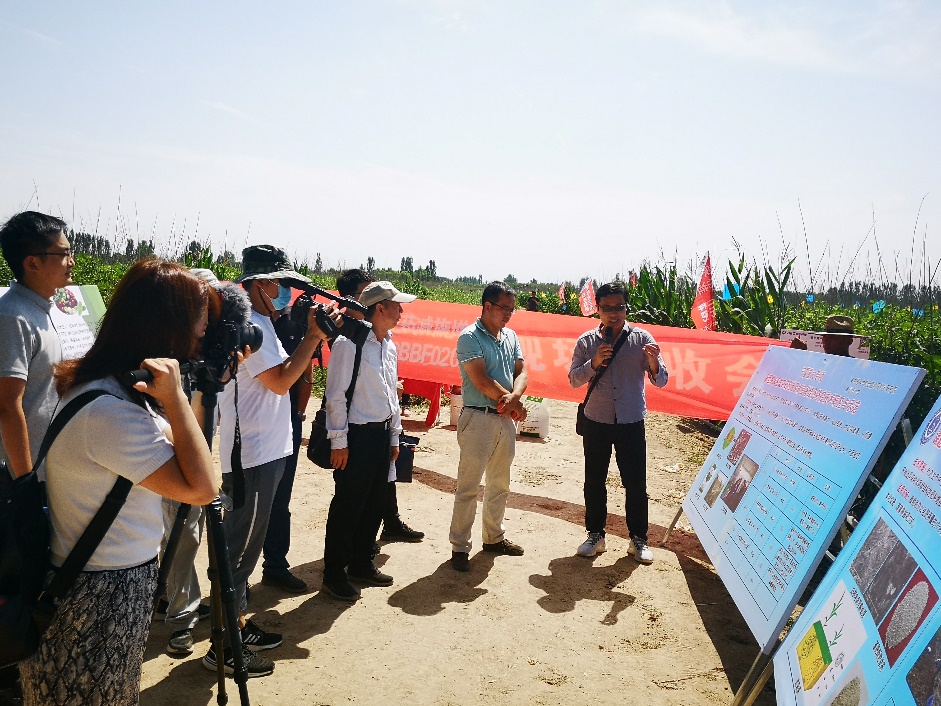 Figure 1. Technical presentation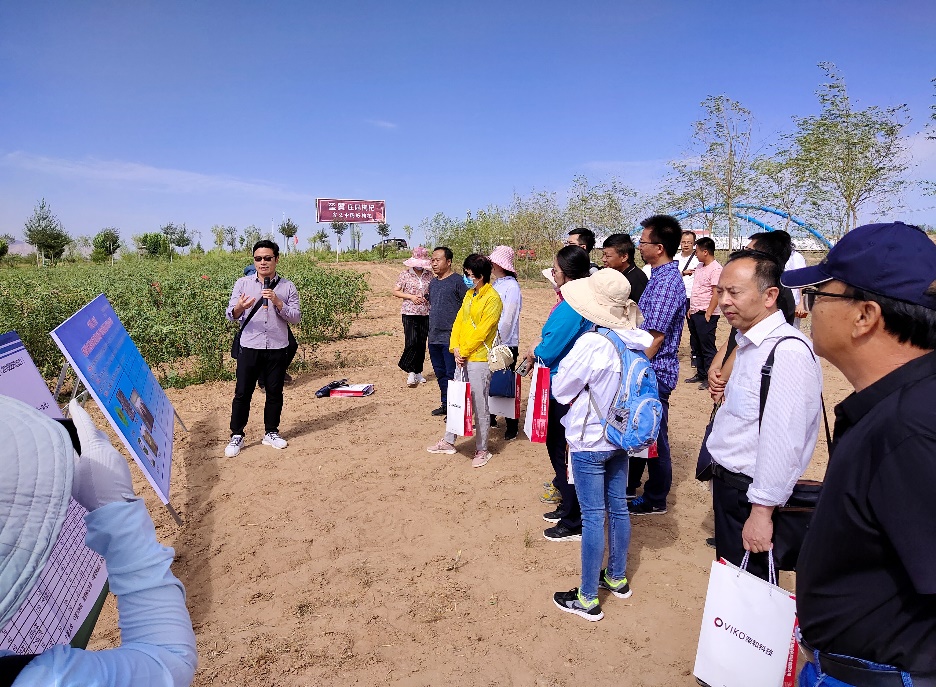 Figure 2. Technical presentation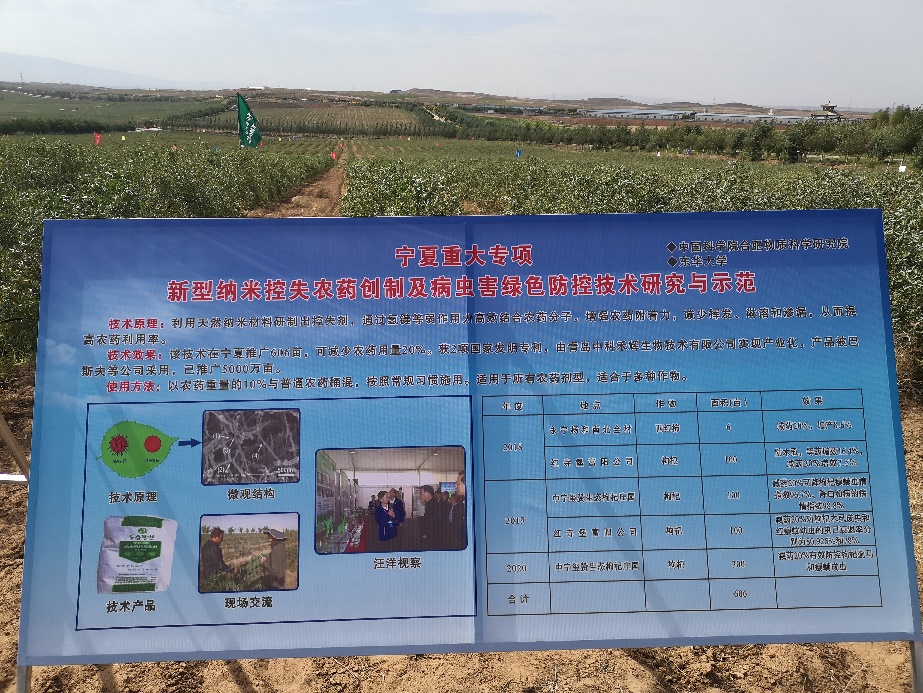 Figure 3. Demonstration base